Looking for a classy yet well-priced promotional pen? Look no further than the Uni-ball Vision Elite DS (Designer Series).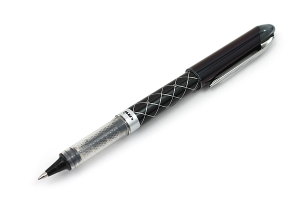 The Vision Elite DS offers an affordable platform to broadcast your company's message. Its sleek and unique design, combined with the comfort and dependability of the Uni-ball brand, make this a hit with number-crunching executives. Choose from 5 great colors. The pen has a 0.8mm ball tungsten carbide ball and a 0.6mm line delivery. This pen features Airplane-safe ink, so no messy cabin pressure leaks. Also, the ink is formulated to prevent cheque and document fraud.
Power this pen with a multi-color imprint and your message will reach a large audience!
More and more companies are turning to the Uni-ball Vision Elite DS for a high return on promotional investment. The cool design and elegant writing capabilities make this pen the go-to pen for daily use. That means more people see your message more often! Feedback from recent buyers includes: "I purchased these to offer our members a quality product with our name on it! Could not have made a better choice!"
There's no doubt, this pen will add value and quality to your business brand!
What are you waiting for? Get the promotional pen that businesses are raving about! Get the Vision Elite Designer Series!
Click here for your custom quotation on imprinted uni-ball pens!