Introducing the Uni-ball Combi…..A rare innovation where functional meets creative!! A writing tool that combines a Uni-ball pen and a fluorescent marker all in one!! Order this pen today and solidify your status as the leading-edge company that you are!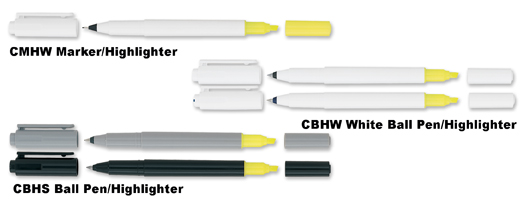 The Uni-ball Combi pen is so impressive that competitors are cropping up with their own version all over the place… Don't be fooled by these imitation pens, uni-ball quality remains unmatched when it comes to this unique pen! First of all our trademark uni-ball has exceptional writing quality, smooth lines and clean dispensing capabilities. The highlighter, holding up uni-ball's commitment to excellence, features a bright yellow fluorescent ink.
When choosing the Uni-ball Combi, 2 pen options are available. Combi ball pen/Highlighter or the Combi Ultra Fine Marker/Highlighter. The Combi ball pen has a blue or black medium point, which is non-refillable. The Combi Ultra Fine Marker has black ink. The sleek barrel or clip offers a great surface for your custom imprint. Choose from a white, grey or black barrel. With so many functional features, this pen is is your best bet for promoting your business!

Many Combi users report an increase in note-taking efficiency and the ability to remember important dates and data. Recipients are using them daily, therefore your logo is with them all the while. End users are only getting smarter! And your company's image only gets brighter! What more could you ask for in a promotional item! This pen is the perfect give-away at company conventions, training events, school related functions and many more.
The Combi pen is a well received gift by a large demographic, which is great news for you! Your message, company or event name will be in the hands of a broad audience. Hope you've been "taking notes" on this pen's remarkable capabilities! After "highlighting" all its unique features and endless benefits you can't afford for this pen to pass you by! Place your order today
Click here for your custom quotation on imprinted uni-ball pens!