Introducing the Uni-ball Gel 207 pen…. A stylishly, functional pen that adds prestige to your business' brand! Order this pen today with a customized imprint and business can only get better!
This pen is highly recommended by professionals for its indissolubility… That is, it can't be removed! A great feature when signing important documents like checks, contracts, legal forms etc. Talk about a confidence booster! Any regular pen's ink can be removed with common household chemicals….. a practice used more and more often for fraudulent purposes! Don't fall victim to these criminals!!
Besides this distinct feature, the uni-ball Gel 207 has a new and improved uni-glide gel ink composition for a smooth scribe every time. The smoothness is superior. The ink, which matches the plunger color for easy recognition, comes in blue, black, purple, red, pink and orange. Its 0.7mm tungsten carbide ball dispenses a 0.4mm line width. It is a water resistant, pigment ink that is also refillable. Not only is the ink something to brag about, the pen has an unbelievably comfortable grip. Writing with this pen is pure pleasure!! Partner that up with a stylish design and the uni-ball Gel 207 pen is your best bet for promoting your business.

A comfortable grip is a slight understatement when describing the pen's cushioned barrel. Your fingers will thank you! Whether its a quick signature or a 10 page report the Uni-ball Gel 207 delivers an unmatched ease of use and smoothness. Users of the pen have reported a decrease in finger cramps and strain. Another powerful benefit of the pen is its ability to beautify your documents…. the crisp, clean lines and smooth ball point take writing to a whole new level. This pen is so comfortable and good looking you might even put your blackberry down and start writing letters again! Once you go Uni-ball Gel 207, you never go back!
This pen is the perfect compliment to your prestigious image you have worked so hard to achieve. When clients receive this pen as a gift, it will solidify their loyalty, boost confidence and strengthen their trust in your company. A direct quote from a recent buyer: "My clients love the Uni-ball Gel 207 pen and actually feel more beautiful using the it"…. a slight exaggeration but you get the picture! In fact the only people let down by this fine pen are those that wish to erase its ink from important documents…Ironically they usually end up using it to sign a plea bargain at their attorneys office.
The Uni-ball Gel 207 is undoubtedly the best pen to covet for more than just its features, its benefits are abundant…… Get a quote now!
Uni-ball 207 Gel Pen Colors Available: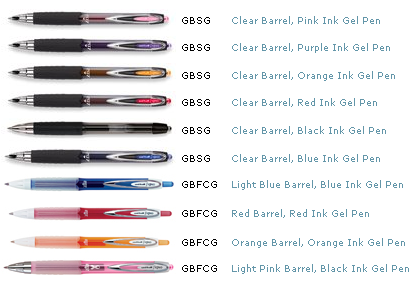 Click here for your custom quotation on imprinted uni-ball pens!